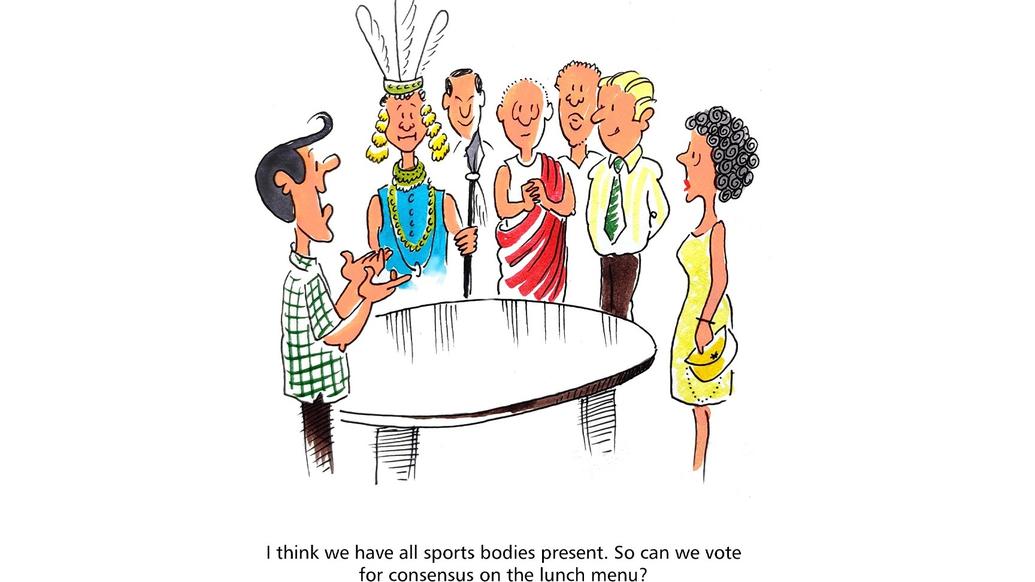 Communities have been around since the start of humanity. They were a way to protect loved ones. Individuals and families would get together, share their resources, and, in return, offer to protect each other in a time of danger.
However, as we have progressed, and the world has become comparatively safer, communities have evolved into groups of people, with similar interests that identify, gather, cooperate and achieve things that individuals cannot.
Sport has always been a hotbed for communities.
Earlier, sport was an activity that brought together people across religions, castes, creeds, genders, and ages together to follow their local team or player.
As the internet has made the world smaller, and social media has become a bigger part of our lives, these communities have now moved online - connecting hundreds of thousands, if not millions, of fans across the world.
Today, a fan of the Mumbai Indians sitting in New York can share a moment with a fan sitting in Thailand - nearly 14,000 kilometres away!
Social Media, Sports, and Communities
As communities evolve for the digital age, there are more effective ways of organising fans and members across the world.
We pick up our phones a couple of hundred times a day, spend up to five hours* a day looking at the screen, and consume applications for about four of those five hours.
Added up, that is nearly 40 hours of usage per week. Or more than 2,000 hours per year.
As a sports fan, it is possible you spend a considerable amount of time as part of many independent sports communities.
Your communities could range on anything from your favourite sports team or a forum discussing your favourite sport to a community discussing sports education or the kind of jobs within the sports industry.
Being part of these communities has been made easier with the advent of digital, specifically social, media.
Sports brands, sports companies and other sporting entities either have dedicated in-house teams to manage their digital media or outsource the same to a competent agency.
*
Five features of effective sports communities
There are five critical elements in order to ensure that a sports community is effective
They are:
Purpose or Cause
Engagement
Culture
Inclusivity
Moderation
*
Purpose or Cause
It is obvious that fans of a brand, team, or sport gather because of their shared interest.
However, when starting, conceptualising and sustaining a sports community it is important for the community management team to determine and establish a purpose or cause.
Fans are driven by the cause of watching their favourite sport or team, buying their favourite brand, or supporting their favourite athlete.
A community management team would do well to understand how to tap into this drive and build a robust community.
A purpose or cause of a co0mmunity is often best attached to the objectives of the sports brand, club, athlete or company.
The purpose could evolve to suit a current scenario.
Such as encouraging a team during a bad streak, supporting an athlete's charitable cause, or participating in a brand's event.
An example would be a company, such as Sporjo, tapping into its community's shared purpose of finding sports employment or opportunities. In Sporjo's case, finding a sports job was like taking a shot in the dark. With a proprietary process, Sporjo's community now can fulfil their purpose in finding employment or opportunity in the sports industry.
Having a defined purpose and/or cause, helps sports communities maintain sustained growth.
Engagement
Engagement refers to both, engagement between the brand and its fans, and encouraging engagement between fans, on social media platforms, online forums, and exclusive events.
Sports brands and companies encourage their members to meet offline as well.
While engagement online is what drives growth, camaraderie comes from meeting fellow community members in person.
These events could be watch parties for team fan clubs, networking events for those seeking sports industry jobs, or a career fair for those seeking sports career opportunities.
In-person community events are a great way to fortify an online community's commitment to a growing, sustainable and robust following.
Commonly seen in sports communities, exclusive access or offers is a great way to boost morale and encourage new members to join.
Fan clubs of sports teams also often come with discounts on tickets or merchandise, and occasionally even the chance to meet & greet a club payer or official.
Sports management institutes that function at the intersection of sports and education often tie up with brands, corporate or even foreign universities to give their students and alumni exclusive access to reports, industry professionals, or discounts on executive education courses in international universities.
Culture
Establishing a culture within the community is critical.
This is particularly important as online communities now feature fans across regions as well. Cultures across the world are understandably different. A global community has to take into consideration these differences and establish a culture that can be followed and adhered to by everyone.
This includes setting rules about what can and cannot be shared or said, establishing protocols of language tolerance, ensuring members are respectful towards one another in communication, and taking swift but fair action against fans who are in the wrong.
Culture should also be aligned to the culture and ethos of the sports brand, club, athlete or company.
Inclusivity
As we move further into the 21st century, there is a growing awareness of the differences between people. These differences are not just in the conventional categories such as race or religion, but also in the rights and preferences of individuals.
Sports, for example, has been a largely male-dominated domain since its inception centuries ago. As society progresses, there is now a bigger call for the inclusion of women - not just the participation of sport, but also in the management and administration of it. More women are working in sports management jobs now - and that number, encouragingly, continues to grow.
Sports communities would do well to consider the changing and evolving times, and foster a sense of inclusion between their members.
Community managers ought to drive the belief that what matters is that every fan is human, and has a desire to be part of their community. Fans and members can and should be respectful of each other's preferences and personalities.
Moderation
Community managers have to be vigilant.
While starting a community is easy, and a popular community may grow exponentially, it is important to keep an eye on the ball as the community grows.
Moderating posts, comments, and interactions are a tricky, but critical element of an effective sports community.
Take for example a community seeking to connect candidates to companies for sports management job opportunities. A community manager would do well to encourage conversation between members about shared experiences with the process of finding a job, feedback on which companies are a great place to work, and what are the skill sets that are appreciated in freshers.
However, it is important to moderate negative comments, poor choice of words between members, or even false information on opportunities that do not exist.
Keeping the community a safe space to share in a common interest - such as a sports brand, athlete, club or company - by carefully moderating communication between members is an important part of a community managers job.
*
To learn more about and join our active Sporjo community, visit us at sporjo.com and register with us today.